Memphis, The Logistics Hub of America
Founded in 1819 by Andrew Jackson because of its strategic location on the Mississippi river, for almost 200 years Memphis has been an important transportation hub. Over the years, as logistics assets have been added, Memphis has become a major logistics center. Because of its world class airport and ancillary logistics assets, it is considered to be America's Aerotropolis, "Where Runway, Road, Rail and River Merge". Memphis boasts the country's top cargo airport and the world's second busiest in terms of cargo, largely due to the fact that Memphis is home to the major FedEx hub. In 2019, the airport handled 4.8 metric tons of cargo, 90% of which was distributed through FedEx's over 500 domestic and international flights. Memphis is only one of three U.S. cities that is served by five Class I railroads.
These include the Norfolk Southern, Burlington Northern Santa Fe, Canadian National, Union Pacific, and CSX. All of the railroads have identified Memphis as a high-growth market for intermodal traffic, and four of them have invested significantly to expand the capacity of their terminals. Additionally, Memphis is currently served by two national interstate highways: I-40 and I-55. Together these two interstates provide access north-south and east-west across the entire country, connecting to ports, gateways, and other major distribution centers. These two interstates are being supplemented with two additional interstates, I-69 and I-22, as well as a regional interstate by-pass to provide increased highway capacity for the coming decades. I-69 is the so called "NAFTA Highway", which will extend from Canada to Mexico, passing through Memphis.
It has been identified as a "Highway of National Significance". When completed, I-22 will be an important route connecting Memphis to Birmingham and Atlanta. As for trucking, more than 400 companies operate from Memphis providing easy access to local, long distance, truckload, less than truckload, as well as specialized freight options. Located less than 500 miles from the mean center of US population, Memphis is well-positioned to serve a major portion of the country. In fact, 36% of the country can be reached overnight and almost 70% by the second day.
No One Moves Like Memphis
With a world-class infrastructure and the ability to operate 24 hours a day for 365 days a year, it's no wonder Memphis has earned the title of America's Distribution Center. Being one blockchain supply chain company out of many, a look into world class infrastructure could keep any business going. With a short drive to all the tech-giants, they're able to stay up to date with the most advanced technologies that includes the most technologically enabled rugged industrial keyboards in an integrated computing system. And our four modes of transportation – runway, road, rail and river – ensure that Memphis is the most reliable and cost-effective location for your logistics and distribution company.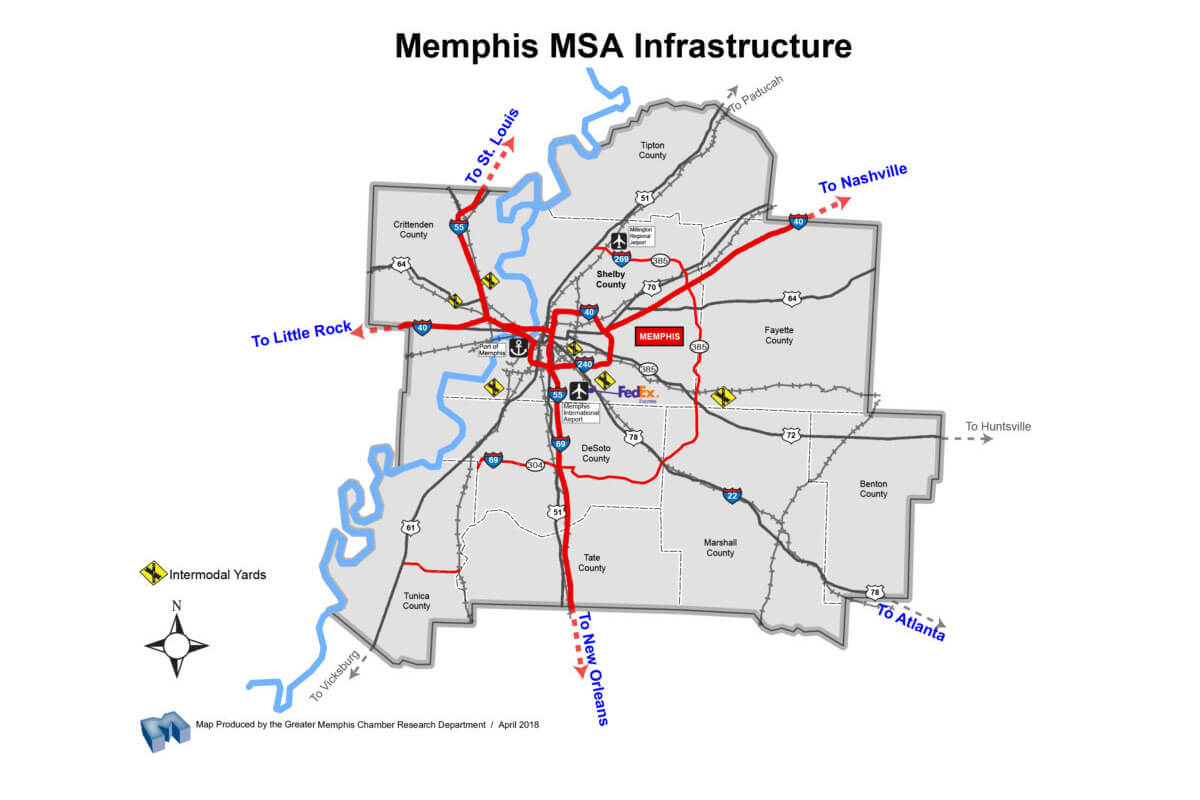 Why Print with Paulsen Printing in Memphis?
With FedEx global air and ground shipping hubs, the second busiest cargo airport in the world, and countless other rail and ground shipping options, Memphis, Tennessee has been the home to Paulsen Printing since 1978. As a leading print provider strategically headquartered in America's Distribution Center, Paulsen Printing offers complete access to a wide range of our printing capabilities as well as to the most cost effective shipping and logistics services available in the country. Why print in Memphis? It's about maximizing the investment in your print project through lower costs, faster shipping rates, and no headaches or frustration for your organization. Have a tight deadline? We're flexible. No matter the size of your order, we can print and ship your materials quickly and efficiently from our Memphis facility.